PRE - ACCELERATION
HELPING EARLY-STAGE ENTREPRENEURS SURVIVE THEIR VALLEY OF DEATH
Epiphany BMV Lab, a three-month, time-tested program in partnership with Uncharted, provides early-stage entrepreneurs with a step-by-step methodology to rapidly and systematically validate their business model. Through interactive in-person workshops, fieldwork, virtual office hours and one-on-one mentoring, startups learn how to gather customer insights, explore effective business models and build MVPs that are the perfect product-market fit. They also learn the art of pitching & pitch in front of angel investors.
Applications for our Spring Cohort are closed.
Applications for our Summer Cohort are open.
Entrepreneurs
Understand the steps of the investment process and what is needed to be prepared at each step

Diagnose where a venture is in preparedness for those steps, build a full plan for how to get ready, and actively work to get there.

Meet with actual funders to get feedback and practice building investor interest.
By the end of the Lab, entrepreneurs have
Built 2-3 prototypes of a key element of their venture

Tested prototypes with real customers

Learned how to build and maintain mentor relationships

Met and received feedback from 6 to 7 mentors per team
PROGRAM OUTLOOK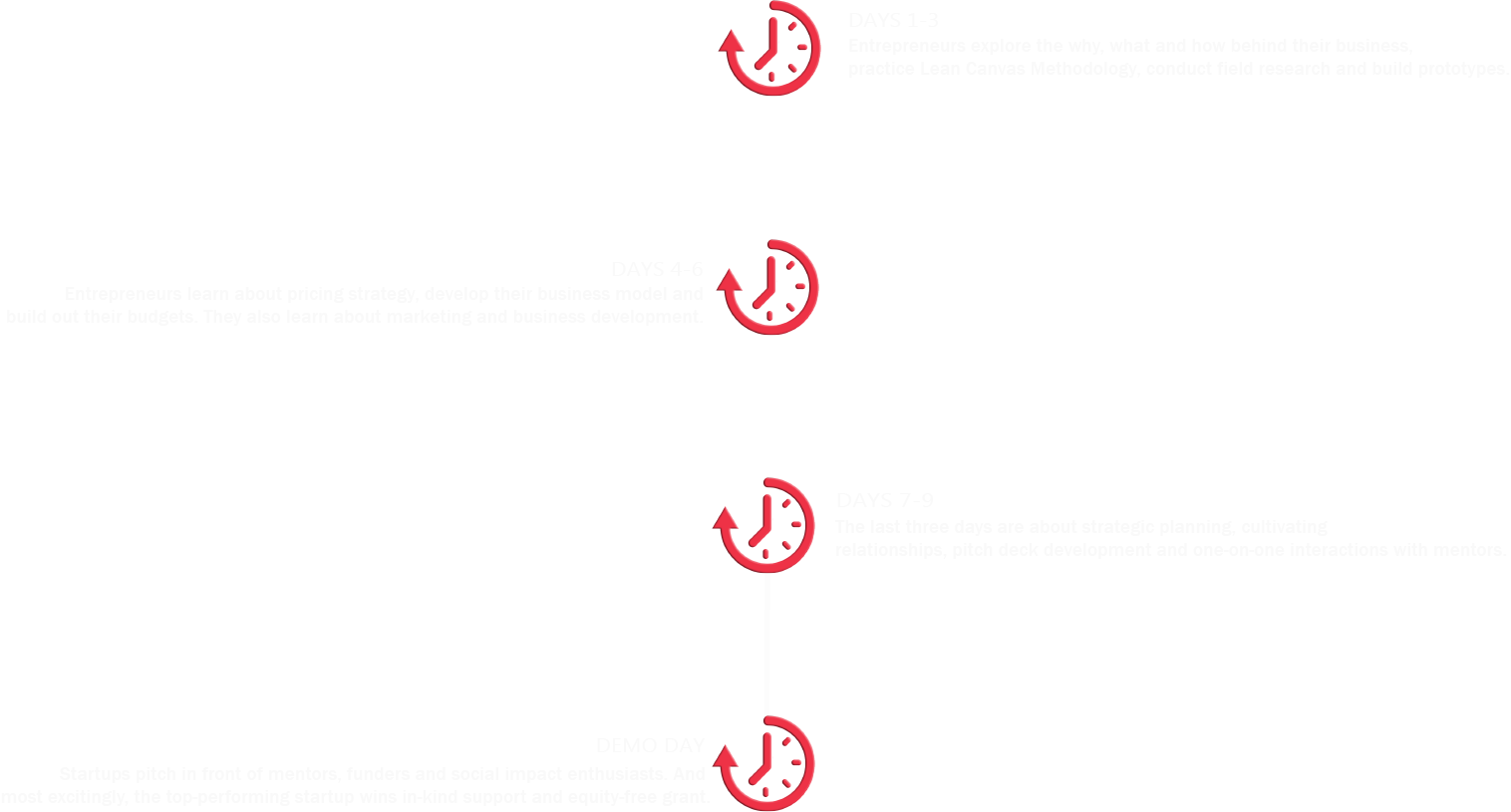 ELIGIBILITY
COMMITMENT TO SOCIAL AND ENVIRONMENTAL IMPACT
EARLY-STAGE VENTURE WITH PROTOTYPE AND/OR SHOWING TRACTION
DEMONSTRATES STRONG MARKET POTENTIAL
FOR-PROFIT, NON-PROFIT OR HYBRID REGISTERED BUSINESSES
ABLE TO SCALE REGIONALLY IF NOT GLOBALLY
SDG`s: A GLOBAL CALL FOR ACTION